42歲,有著惱人的魚尾紋與乾燥暗沉…
---
使用者姓名:Steff,來自澳洲布里斯本
---
「唸過生技的我知道,若活性蛋白質產品成真,絕對是我的肌膚救星!」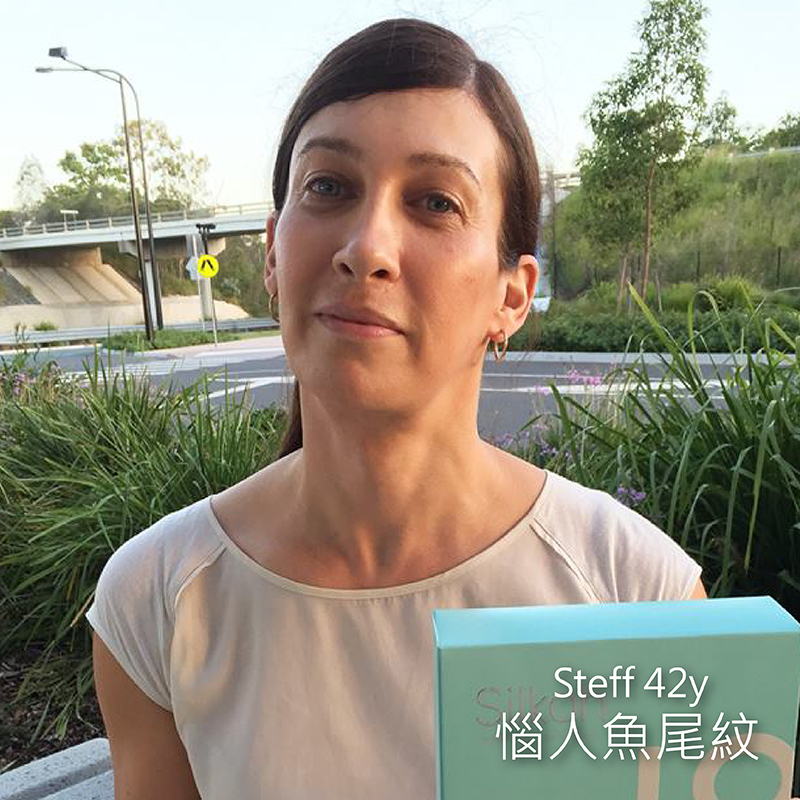 Hi, I'm Steff. I live in Brisbane, Australia, and I'm 42 years old.
我用過一大推含專櫃保養品,但要不是沒效果,就是只有剛開始有感而已,惱人的細紋仍然愈發明顯… …。
I do wear makeup sometimes, but mostly I focus on my skin care routine. Sadly though, the more I tried to take care of my skin condition, the more the fine lines formed, especially the deep crow's feet and I couldn't stop it. I had collected all sorts of anti-wrinkle products I could lay my hands on including the famous international brands because I thought they could actually solve my problem. Some of the products did work for the first few weeks, however, after some time, the lines returned and it was back to square one. They all turned out to be ineffective.
大學讀過生物科技相關科技的我,很了解如果緊緻因子(活性蛋白質)保養品成真,那就會是我的肌膚救星,開始使用Silkah動齡18!
Then one day, my neighbor and colleague, Joe told me he had a friend in Taiwan, who happened to develop an anti-aging skin care product called Silkah all by themselves. I majored in Biology at the university, so after Joe's explanation of how the stem cell skin care process works, I immediately concluded that if there was anything that could save my skin, it would be Silkah. It was easy for me to come to that conclusion even before I used the product because I know that stem cell was excellent for repairing aging skin and it's also the most natural, burden-free way to do so. I took a set of Silkah home and used it once every night.
在兩週內我就感受到肌膚變好了,乾燥和無光澤改善了,細紋也淡化了,再也不用買一推保養品,現在我要專心用我的Silkah 動齡18!
To my greatest surprise, I started to feel some changes just in two weeks. Skin dryness and dullness greatly reduced, my skin felt healthier. After a month of consistent use, I looked in the mirror and couldn't recognize myself. The wrinkles on my face had significantly reduced and the crow feet's were not as deep as they were before. It just vanished and I couldn't believe my eyes! Silkah was simple to use, and it improved my entire skin condition. I didn't need to add extra products to enhance its effect; neither did I purchase a load of other anti-aging products to augment it. It already had all the skin care nutrition my skin needed. Silkah was just a wonderful gift for me!